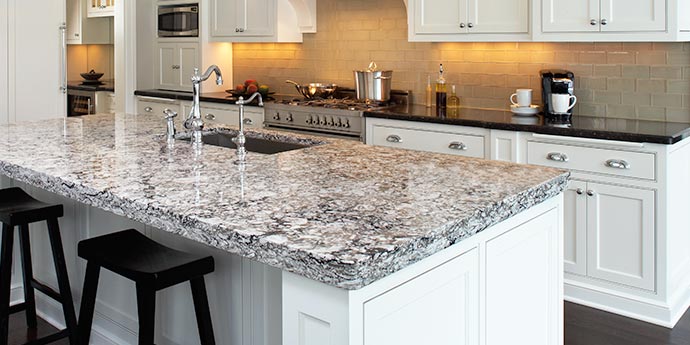 24 Jan

How to Choose the Right Countertops for Your Kitchen

Are you searching for the best kitchen countertops for your home? The search for that perfect countertop doesn't have to be tough. Today we're giving you our best tips so you can find that sense of direction and select the best countertop for your house. Read on and find out more!

We all can be shallow sometimes. But while you may be all about the looks when it comes to your countertops, you've got to consider more than just how attractive it is if you want to be happy with your selection. Consider other factors as well– the durability of the material, the maintenance factor, and how much it will cost.

Another thing you might want to consider is how your countertop is going to fit into your lifestyle. Believe it or not, whether you live with your spouse or whether you have a busy life and tons of kids to manage is going to play into your decision.

Even if you're in love with a certain look but aren't sure the material will mesh with your lifestyle, the chances are you can find a pretty close dupe. Easy to get granite countertops can be affordable, and that may play into your choice. It's often the top choice and comes in a variety of colors with two finishes, polished and honing. Polished finishes often darken the stone and can be shiny, while honing creates a matte, soft finish.

Granite may also be your top choice due to its easy maintenance. Other stone materials are naturally softer and thus require greater consideration while being used. You also have to periodically seal them, something that may not appeal to you– so consider that when looking at materials such as soapstone, limestone, or marble.

You may also want to check out engineered stone countertops. These bulletproof counters may cost the same as granite, but they have durability and are easy to maintain. Available in a variety of colors and resistant to stains and scratches, they're a solid choice for any homeowner to consider. However, avoid putting hot pans down on them without a buffer.

Homeowners are starting to branch out beyond these materials as well. Wood countertops are growing in popularity as they are very easy to clean and scratches can be removed easily with a sander. The only downside is that they are damaged by water so must be sealed with oil frequently. You may find a friend in the extremely affordable laminate countertops, which come in many colors and designs and is more scratch-resistant than ever.

Also becoming popular are concrete countertops. They have many finishes: trowel, ground, or pressed. However, they must be sealed 3-4 times annually and waxed every 2-3 months– not the best option if you want something low-maintenance. However, their customization through pigmentation may make you want to consider it.

At the end of the day, picking one material is tough. If you can't pick one, you can always mix and match and may really like the end result. Square edges are standard, but remember that decorative edges will most likely cost extra. Seeing the material in person is crucial before making a decision, whether you are looking at samples or in a showroom. If you like it in person and can see it in your home, think it over, and then if you're still sure then get it! Thanks for reading, and good luck in your countertop quest!